The Simfatic Forms project file keeps your form design and all the relevant information (example: The web servers where you installed the form).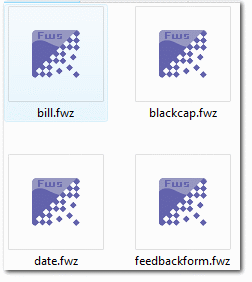 The file has extension fwz. While making the form in Simfatic Forms, you can save the form design by pressing the Save button in the toolbar (or by choosing the File->Save menu item). Later you can continue working on the form by opening the same Project file.
Never upload the fwz file to your web server!
The fwz file(the Simfatic Forms project file) is a proprietary file format that makes sense only to Simfatic Forms application. The scripts generated by Simfatic Forms can't read the fwz file. So, there is no need of uploading the fwz file to the web server.
The fwz contains security information regarding your form (like a form id and signature that is required to download form submission data). Therefore, it is potentially unsafe to upload the fwz file to your web server.
Keep the fwz files of your forms in a safe location. Make sure that the fwz files are included in your regular backups.